VRtillery
This is an action movie you can play.
— The VR Shop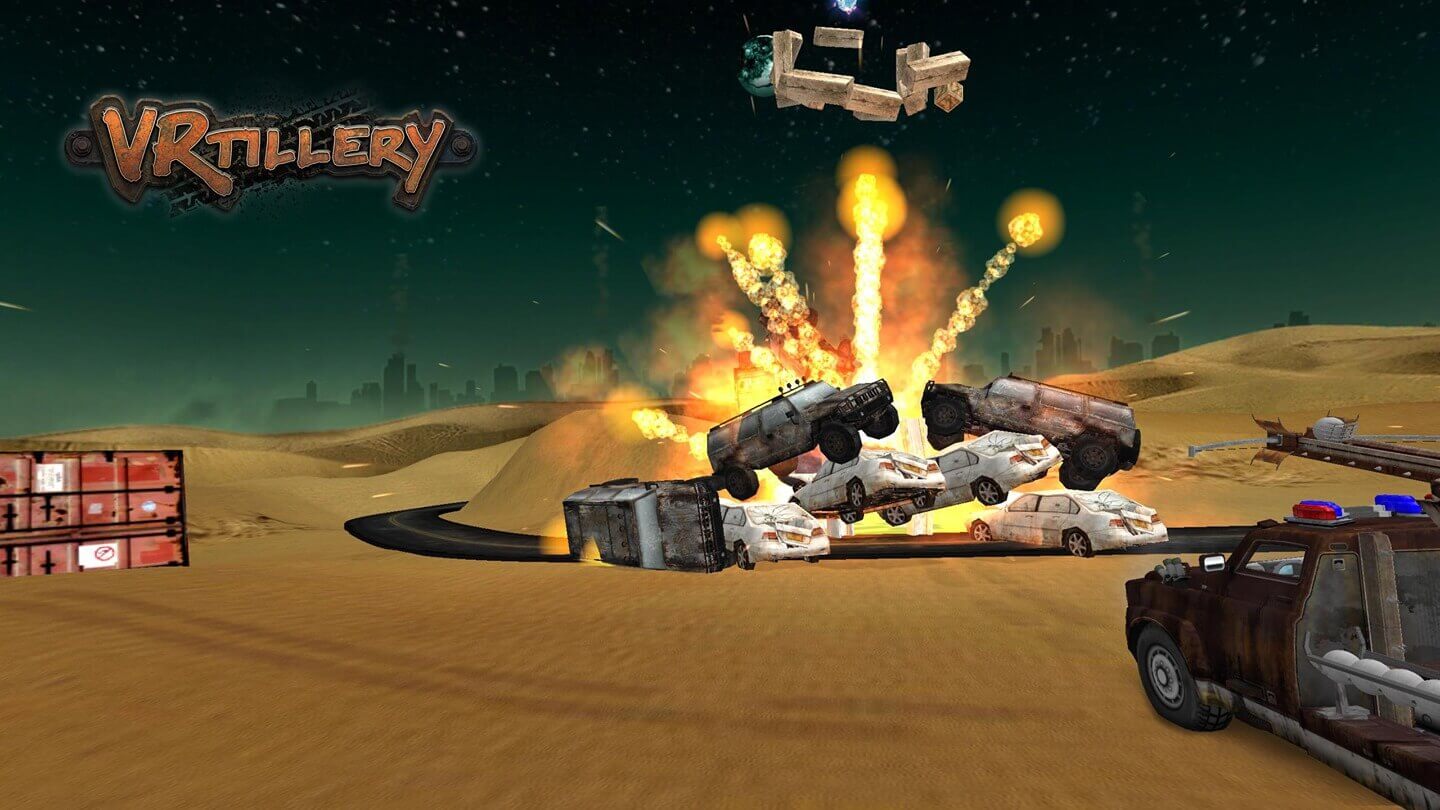 Genres: Shooting Range Game, Puzzle
Platform: Gear VR
Initial release: April 18, 2015
Samsung Gear VR Innovator edition Launch
Become a VRtiller!
You sit in the back of a pickup truck in a Mad Max-like, post-apocalyptic, futuristic world. You are driving in a quest for U-453, the incredible power source left over from civilization's pinnacle at the end of the 21st century.
You have to destroy cars, shipping containers, wood crates, concrete blocks, girders, and so on — to retrieve the precious radioactive material.
So arm your crossbow, aim and shoot right: your success or failure will determine whether humanity stays alive in the bunkers deep under the evaporated oceans.
Strap on your Gear VR headset and control a remote Katapulter in the wasteland.
Shoot at U-453 balls to knock them off and retrieve them.
Progress through 60 levels using your tactical ability, aiming skills, and tenacity.
Use your head movements to aim and the touchpad to fire.
Explosions, Physics-Based Fun and Challenges
VRtillery is a physics-based shooter and a strategy game, revisited for the Samsung Gear VR. It is done in sort of a Angry Birds-like 1st-person style, not in a moving action shooter style. This gives the game its very own, strange and peculiar style.
A highly addictive, challenging fun game for anyone who loves being part of action events involving monster trucks, big explosions and crashes.
Part of Samsung Gear VR Innovation Edition
Renowned for the success of Anshar Wars, OZWE is approached to be part of the Gear VR Innovator Edition: Samsung puts the device in the hands of OZWE — amongst others — to craft amazing immersive experiences. The Innovator Edition is launched with VRtillery and Anshar Wars, along with a collection of high-quality sample experiences that show off what Gear VR is capable of.