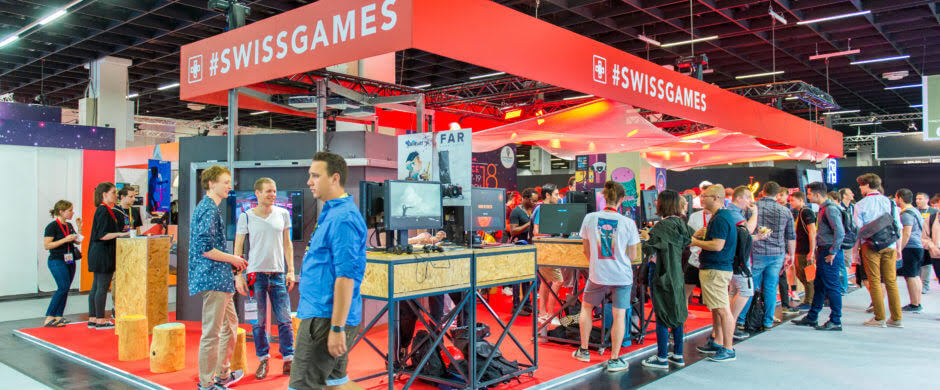 OZWE @ Gamescom 2019
Gamescom 2019 | The Heart of Gaming – Europe's leading trade fair for digital games culture.
21 – 24 August, Cologne, Germany.
For the sixth time in a row, the Swiss Arts Council Pro Helvetia is organizing the presence of a selection of independent Swiss studios and startups to Europe's largest trade fair for video games, Gamescom. Located within the Business Area, the SwissGames booth offers a perspective on Switzerland's innovative and creative game industry.
Among the games showcased this year on the booth, prepare to dive into some deep immersive experiences with three VR projects. Our latest release Anshar Online, allows you to soar, enjoy co-op, PvP and racing modes. together with two location based entertainment (LBE): Birdly allows you to fly like a bird through a vivid full-body experience, while Kynoa studios invites you to play soccer table like never before.
SwissGames delegation to Gamescom 2019:
Blindflug Studios «First strike: Armageddon»
Cosmoscope «Morphies Law»
Digital Kingdom «Swordship»
DNA Studios «Tower of Babel»
EverdreamSoft «BitCrystals»
Kynoa studios «Koliseum Soccer VR»
LuLuLu Entertainment «Bämeräng»
Momo-pi «Persephone»
Okomotive «FAR: Lone Sails»
OZWE Games «Anshar Online»
Somniacs «Birdly®»
Stardust «AVA – An Interactive Fairytale»
Sunnyside Games «TOWAGA 2»
vrbn studios AG «3D urban environments for games»
Asteroid Lab «Terraformers»
Andres Bucher, Joëlle Tobler and Julia Bohren «Kukulcan»
Treasure Hunters «Treasure Hunters»
More details: www.gamescom.global
Image: Swiss Arts Council