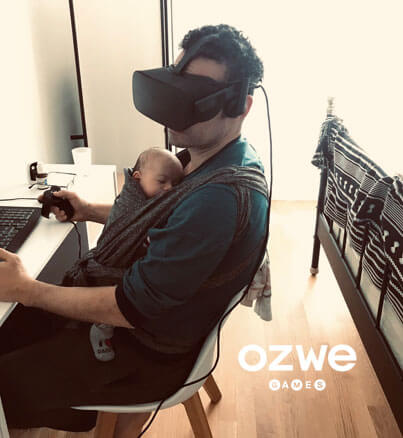 Meet The OZWE Team: Stéphane Intissar, CEO
Born in France, he owns a Master of Science from Georgia Institute of Technology and a Master of Science from the Ecole des Mines in France. He worked for several companies in the various field ranging from telecommunications, banking, and gaming.
In 2013, Stéphane created the first version of Anshar Wars, an immersive version of the game Escape Velocity. That is how the success story began! The Oculus team (Facebook-owned) contacted him to discuss the possibility of a partnership.
In 2014, under his leadership, OZWE Games had fully embraced the development of virtual reality games. Since then, he has worked on 4 VR titles, including the popular series cross-play and cross-platform Anshar, offered in six languages.
And he was nominated "Innovator of The Month" for March 2017 by Innovation Forum Lausanne.
Stéphane is the proud dad of a little boy. In his spare time, he loves walking with his dog Basil (OZWE's official mascot) and playing basketball. Also, he likes tasting wines together with colleagues, friends, and family.
Meet other team members